"...We believe this is simply the best campaign investment
still on the table..."


The truth is, campaign ads aren't working any more.

In this election season, most battleground-state voters have seen the same tired ads hundreds of times. But here's one ad that will win votes for John Kerry. And we need your help, right now, to place it.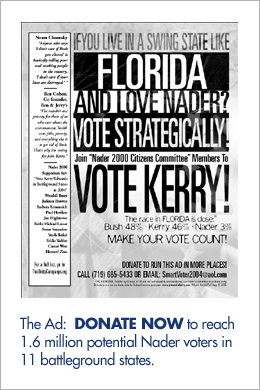 Here's the story:

First: We at TheUnityCampaign.org (formerly RalphDontRun.net) recently sparked a seismic event in progressive politics. We helped persuade almost every prominent member of Ralph Nader's own, hand-picked "Citizens Committee" for his 2000 campaign to do a remarkable thing: to publicly unite behind an endorsement of John Kerry in battleground states. If enough potential Nader voters hear about this, Kerry will pick up tens of thousands of battleground state votes.

And in some states, a few thousand votes will decide whether Bush gets 4 more years.

That's why we need your help, immediately. To tell Nader-leaners that Sarandon, Chomsky, Zinn, Raitt, Hightower and all the rest now say "Vote Kerry in Swing States."

Second: We have an immediate opportunity to buy advertising to take this message to these vital "Nader-leaners," for a fraction of its usual price, in alternative newsweeklies in every battleground state where Nader is on the ballot. How? Publishers of progressive weeklies are chipping in cash contributions to this cause - but we must do our part to raise at least $18,000 in 48 hours to reach a remarkable 1.6 million targeted readers in the 11 vital states. (To view the ad click on the image above or view it here).

It's a unique bargain and opportunity to reach voters who have been almost entirely neglected in this campaign: swing voters on the left. No one has gone after these millions of likely Kerry voters. We will.

We believe very strongly that this is simply the best campaign investment still on the table. Please help us reach critical Nader-leaners with custom ads for every battleground state where Nader remains on the ballot: Florida, Michigan, Wisconsin, Iowa, Minnesota, Maine, Colorado, New Hampshire, New Mexico, West Virginia, and Nevada.

When potential Nader voters hear that Noam Chomsky, Howard Zinn, Susan Sarandon, Ben Cohen, Cornel West, Studs Terkel, Tim Robbins, Barbara Ehrenreich, Eddie Vedder, Phil Donahue and 75 pillars of Progressive America ALL back Kerry in battleground states, the truth will be undeniable: Nader has no base, and progressives have got to vote Kerry/Edwards.

Please join us. Donate right now - our Ad deadline is upon us. We need at least $18,000 in the next two days. The maximum per person contribution is $5,000, but know that every dollar will add to our reach and impact.

Sincerely,
John Pearce
Director, TheUnityCampaign.org

P.S. Visit our website for the full statement and list of "Nader 2000 Leaders United to Defeat Bush." And please forward this message to your own list of friends and contacts.